President Joe Biden currently has a higher job approval rating among Democrats than the past two presidents from his party had at the same point in their presidencies, according to a new poll.
In its most recent survey on the president's job approval, Gallup found that 87 percent of Democrats said they approve of Biden's work.
Meanwhile, during the same period—the end of March during their third year in office—former Presidents Barack Obama and Bill Clinton had lower approval ratings from Democrats. According to Gallup, 79 percent of Democrats said they approved of Clinton in late March of 1995. Meanwhile, around 80 percent of Democrats approved of the job Obama was doing during the last week of March in 2011.
Overall, though, Obama and Clinton had higher job approval ratings than Biden during those periods. Obama had an approval rating from all Americans of 48 percent in late March 2011, compared to 44 who disapproved. In late March 1995, 44 percent of Americans approved of the job Clinton was doing, and 47 percent disapproved of his work.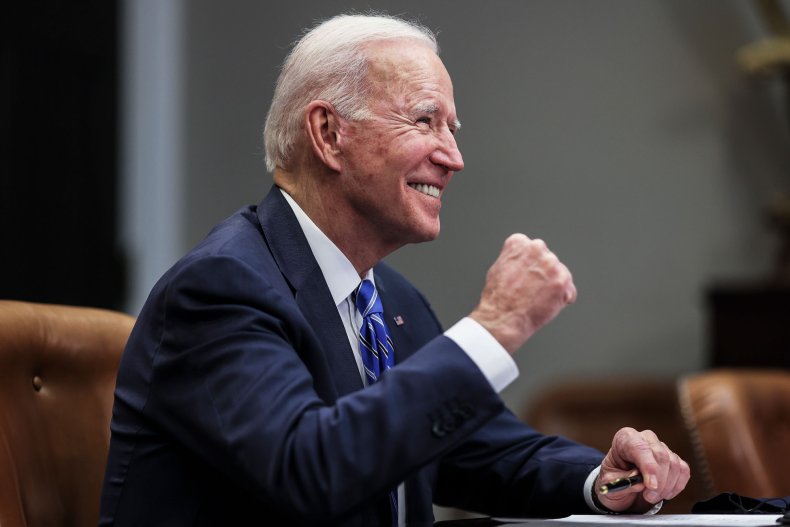 Gallup calculated Biden's approval rating in late March to be 40 percent, with 56 percent of people saying they disapprove of his job performance.
The difference maker in the polling for the Democratic leaders is support from Republicans and people who identify as independents.
Obama's job performance in late-March/early-April 2011 was given a positive rating from 43 percent of independents and 18 percent of Republicans. Clinton's job was supported by 47 percent of independents and 17 percent of Republicans during the same time of year in 1995.
While Biden's job may have been rated positively by 87 percent of members of his own party, only 35 percent of independents and 3 percent of Republicans told Gallup they approved of his work.
As for how Americans feel about Biden's job performance compares to that of his immediate predecessor, Gallup found the results to be about even for March in the third year in office.
Former President Donald Trump, a Republican, had an overall approval rating of 39 percent in March of 2019, compared to Biden's 40 percent.
Another poll released on Friday showed Biden gaining support among Democrats who say they want him to seek a second term in the White House.
That poll from the Associated Press-NORC Center for Public Affairs Research found 47 percent of Democrats said they want him to run gain, which is up from 37 percent of Democrats who said the same in a similar poll in January.
The findings from the AP/NORC poll showed fewer Democrats said they approve of the job Biden is doing than the research reflected by the recent Gallup poll. According to AP/NORC, 78 percent of Democrats said they approve of his job performance.
However, 81 percent of Democrats said they would "definitely" or "probably" support Biden in a general election if he is the party's nominee.
Newsweek reached out to the White House via email for comment.