The White House has faced growing pressure to weigh in on Donald Trump's indictment in the days since he became the first current or former U.S. president to face criminal charges.
The response so far? No comment.
The silence from President Joe Biden and senior aides has become glaring as more attention is focused on Trump's historic arrest and its implications for the 2024 presidential election.
Biden so far has not responded to questions from journalists about Trump's indictment, leaving White House press secretary Karine Jean-Pierre to handle the issue.
Jean-Pierre faced nearly two-dozen questions Tuesday about Trump, around the same time that he appeared in court in New York to plead "not guilty" to 34 felony counts of falsifying business records.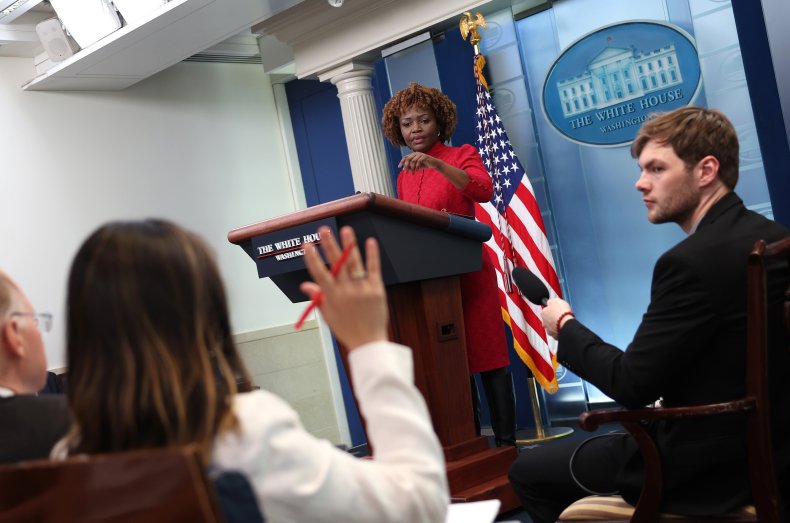 The charges stem from Trump's role in making hush money payments to a porn star during the 2016 election to cover up an alleged affair.
"We're just not going to comment on the case specifically," Jean-Pierre said, when asked to address the charges, citing the ongoing investigation by the Manhattan district attorney's office.
In response to other questions, Jean-Pierre also said she hadn't spoken to Biden about Trump's case, and declined to comment on the possibility that his arrest would set a new precedent for other presidents, including Biden, to face criminal charges in the future.
The White House position is consistent with its standing policy not to comment on or in any other way interfere with ongoing investigations by the Department of Justice or state and local law enforcement agencies.
Biden has made at least one exception, however, weighing in on the January 6 attack on the Capitol while there were numerous ongoing investigations into individuals who participated in the attack.
At one point, Jean-Pierre was pressed to explain the difference.
The attack on the Capitol was "incredibly devastating," she replied, and the president decided "it was important to speak to." Left unsaid was why Biden has decided not to speak to the current legal drama swirling around Trump.
Outside the White House, political experts and legal scholars have their own theories.
"The Biden administration is staying focused on calm, normal politics and trying to deal with the various issues afflicting the country," said Dennis Goldford, a political science professor at Drake University in Des Moines, Iowa. Biden and his advisers are betting that voters want to see him focused on solving everyday problems, Goldford added.
"They're basically saying, 'look at all the Trump drama—we don't play that game,'" he said.
Biden has little to gain by wading into an explosive legal battle surrounding Trump, said Michael Gerhardt, a constitutional law expert at the University of North Carolina at Chapel Hill.
"It makes sense to me that Biden and his press secretary would not want to get into the middle of this," Gerhardt said.
Anything they say could be used by Trump to further his claim that the many investigations he faces are a coordinated political attack to block him from returning to the White House, Gerhardt said. In addition to the New York case, Trump faces three other criminal investigations relating to his interference in the 2020 election and handling of classified documents after leaving office.
"If the president weighs in it helps to politicize this, then that's to Trump's advantage," Gerhardt said.
Others said if Biden spoke out about Trump now it would amount to his commenting on the 2024 election, something he has generally avoided doing up until now. Trump announced his campaign last November. Biden has not yet launched his reelection bid, but he has signaled multiple times that he intends to run.
"For Biden or the White House to respond, it'd mean that they're getting into the presidential campaign, and Biden is holding off on that," said Todd Shaw, a political science professor at the University of South Carolina.
Shaw noted that Biden's strategy stands in marked contrast to the way Trump approached talking about his political opponents when he was in office. Trump frequently criticized Hillary Clinton and former President Barack Obama, among others.
Still, there is no direct comparison to the current moment, since Trump is the first president to be criminally charged.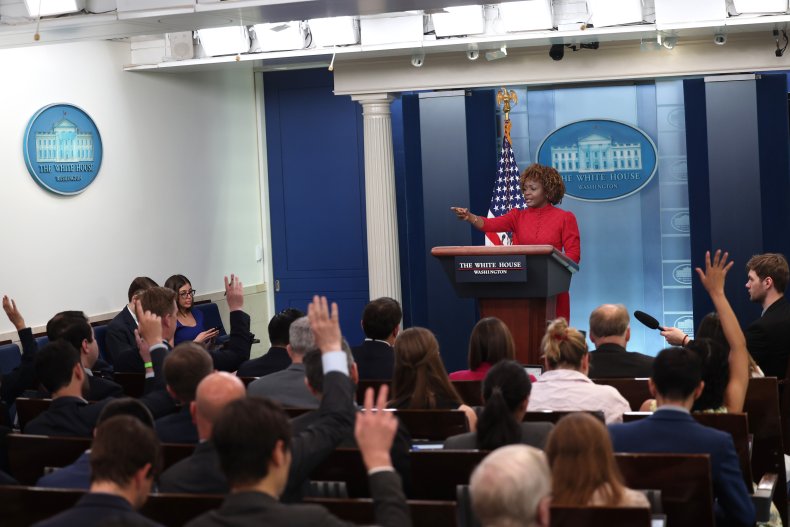 Analysts have pointed to former President Gerald Ford's decision to pardon his predecessor, Richard Nixon, for any crimes he may have committed as president. Ford said at the time that his decision was meant to help a divided nation move on from the Watergate scandal.
But it was a controversial move that dogged his presidency and is widely believed to have hurt him in his unsuccessful presidential campaign against Jimmy Carter in 1976.
The day Trump was arrested, Jean-Pierre was asked if Biden would consider pardoning his predecessor.
"I'm not going to get into hypotheticals," she responded. "I'm not going to get into any of that."
The White House declined a request from Newsweek to comment for this story.