A video of a rescued beagle who was "given away for free in a parking lot" living life to the full with his rescuers has delighted viewers on TikTok.
In the clip, which has almost 300,000 views, Rumi the beagle can be seen snoozing under a blanket on a private plane with ear defenders on.
The text reads: "When you were given away for free in a parking lot and now fly private everywhere with humans who center their entire lives around your happiness and wellbeing." The caption states: "This beagle boy is winning at life."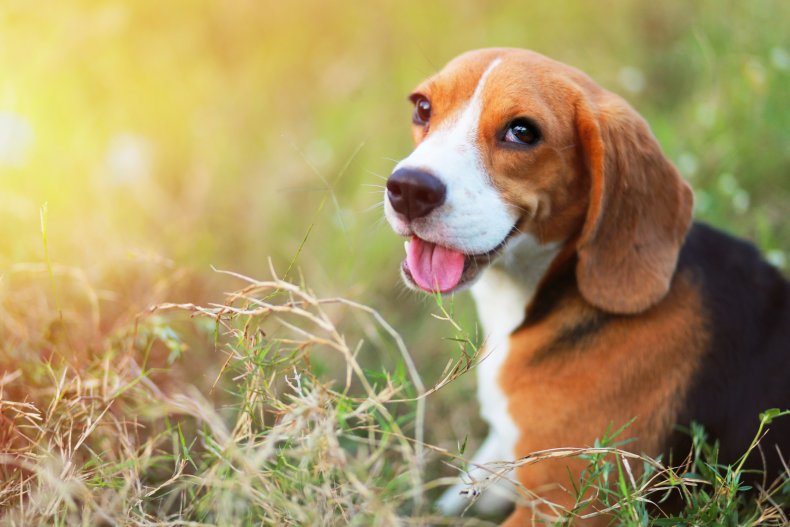 Beagles rank No. 8 on the American Kennel Club's most-popular dog breeds of 2022. The dogs are described as "merry" by the AKC, as well as "loving and lovable, happy and companionable, all qualities that make them excellent family dogs."
Due to their small size and agreeable temperaments, beagles have historically been used in animal testing. This has led to many rescue attempts by animal-welfare organizations and many beagles ending up abandoned or in shelters.
In July 2022, around 4,000 beagles were rescued from breeding facility in Virginia that supplied the dogs to laboratories that test on animals. The Humane Society of the United States animal-rescue team was approached by the Department of Justice to rescue the beagles from the facility, owned by a company called Envigo.
"Government inspectors found that beagles there were being killed instead of receiving veterinary treatment for easily treated conditions; nursing mother beagles were denied food; the food that they did receive contained maggots, mold and feces; and over an eight-week period, 25 beagle puppies died from cold exposure," the HSUS reported on its website. "Other dogs suffered from injuries when they were attacked by other dogs in overcrowded conditions."
Envigo, which has joined forces with another company Inotiv, states on its website that its experts "bring a harmonized approach to the ethical use of animals through actively fostering a culture of care (towards the animals used and bred at Inotiv) at all levels of the company." The company adds that it is focused on "achieving the highest standards of animal welfare that are compatible with attaining the scientific objectives of the studies conducting and breeding performed."
"He deserves all the happiness and love in the world," wrote one user of the viral video, while another commented: "Beautiful story. Thank you so much for loving and believing in rescues."
Newsweek has reached out to @Rumi_The_Beagle via TikTok for comment.
Do you have funny and adorable videos or pictures of your pet you want to share? Send them to life@newsweek.com with some details about your best friend, and they could appear in our Pet of the Week lineup.