Experts are concerned that regional banks in the U.S. are at particular risk should there be a commercial real estate crisis.
These small and mid-sized banks hold 70 to 80 percent of all new commercial real estate loans. Morgan Stanley predicts the sector will have to refinance more than half of its mortgage debt in the next two years.
However, some economists and financial advisors are optimistic that regional banks can remain resilient, with low loan losses and potential gains in rent negotiations for small businesses.
A looming commercial real estate (CRE) crisis has some experts worried about what could be next for U.S. regional banks, which are still reeling from last month's chaos.
The CRE sector is already facing warnings that it could collapse as a result of the pandemic shift to remote work and high interest rates, and that it will have to "refinance more than half of its mortgage debt in the next two years," according to a Morgan Stanley report published Monday.
Although offices were first vacated for COVID-related reasons, there are other factors that have mounted pressure on CRE markets. For one, a lot of loans are due for refinancing soon, but high interest rates from the Federal Reserve will make that refinancing expensive. At the same time, these deals are heavily debt financed—a point of concern that depositors were recently reminded of thanks to the bank run that led to the collapse of Silicon Valley Bank.
Last month, customers of regional banks rushed to withdraw their money amid fears that their financial institutions would be unable to return their cash when they heard their lenders were selling off holdings in order to make good on withdrawals. Collectively, the mass withdrawals became problematic, driving SVB into the hands of regulators and causing the nation's largest banks to rescue another San Francisco-based bank, First Republic.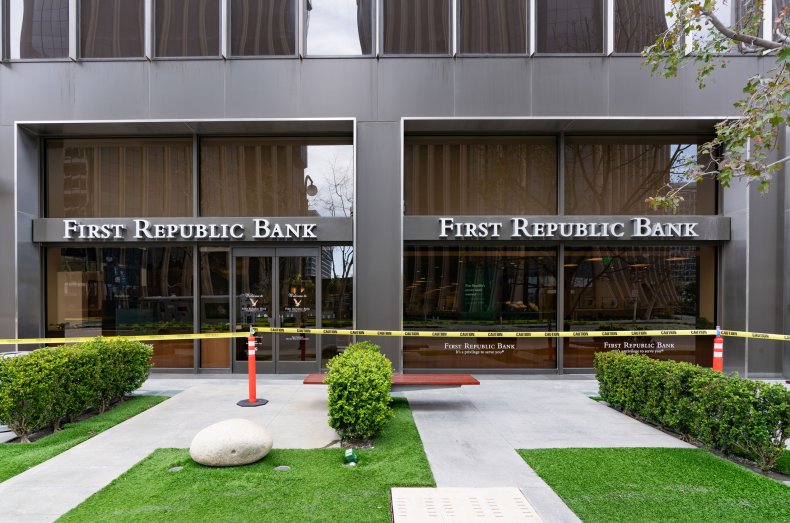 Monday's note from the company's chief investment officer flagged that a potential CRE collapse could have an outsized influence on small- and mid-sized banks, which hold 70 to 80 percent of all new CRE lending.
"Regional banks have significant exposure to the CRE sector," Amiyatosh Purnanandam, an economist and banking risk expert at the University of Michigan, told Newsweek. "There is a concern of high default rate that these regional banks will face on their CRE loans in the near future. So yes, I do worry about this risk."
Because the big core banks account for a much smaller portion, 20 percent, of these loans, larger institutions are expected to be able to handle any losses that could lead to a bigger systemic problem.
Looking back on the market crash of the late '80s and early 90s, Robert Hockett, a financial regulation expert at Cornell University, told Newsweek that the current fears surrounding the CRE sector are especially real for regional banks, who have suffered the consequences before.
More than 30 years ago, the U.S. went through a CRE boom and bust cycle triggered by overbuilding that led to a massive oversupply of commercial space.
"When that bust occurred, it was precisely those sort of mid-sized institutions that were wiped out," Hockett said. "Any kind of bank that has sort of stepped in to fill that void has been the more regionally-oriented, mid-size banks or sector-specific banks. So, they are, again, the ones that are going to be facing the fallout."
Despite those fears, some economists, like Doug Holtz-Eakin, don't believe that regional banks would face greater risks when it comes to CRE.
Holtz-Eakin, who formerly headed the Congressional Budget Office and who currently leads the American Action Forum, told Newsweek that the recent stresses on smaller banks come from liquidity-related concerns. Rather than fears related to CRE loans, the recent tumult stemmed from fears that lenders would not have enough cash on hand for depositors to make withdrawals.
"The Fed has addressed this concern with hundreds of billions of loans from the discount window and the new Bank Term Funding Program," he said. "I don't anticipate any broad difficulties from the condition of commercial real estate loans," which he added have long been in a "troubled state."
The Motley Fool, a Virginia-based private financial and investing advice company, noted that there hasn't been significant cause for alarm when evaluating the losses that have been suffered by regional banks.
"So far, credit quality has been extremely benign with all of these banks seeing hardly any loan losses in their CRE portfolios and barely any loans where the borrowers are even past due on their payments," the company said in a Wednesday blog post.
However, it noted that there will certainly be a "test" if the economy falls into a "deeper recession," and that it would be likely for losses to "start to show up and potentially rise fairly significantly."
Gina Bolvin, the president of Bolvin Wealth Management Group, also told Newsweek that while refinancing needs could certainly push rents up—ultimately force businesses out of areas—those expensive costs could also result in stubbornly high vacancy rates which would in effect, give small businesses the upper hand in negotiations with landlords.