The maker of an "anti-woke" alternative to Bud Light is being called out online over the high price of his product, which—including the cost of shipping—comes out to more than four times the price of one of America's best-selling beers.
Following conservative backlash against Bud Light's parent company Anheuser-Busch's partnership with a transgender influencer, Seth Weathers—a Georgia-based political consultant and apparel company CEO who led President Donald Trump's 2016 campaign in the state—announced he would begin selling a "100% woke-free beer" as a bulwark to "woke corporations."
The video went viral, amassing 2.2 million views in 24 hours and prompting what Weathers described to Newsweek as "thousands" of pre-orders of Conservative Dad's Ultra Right ahead of the product's formal launch next month.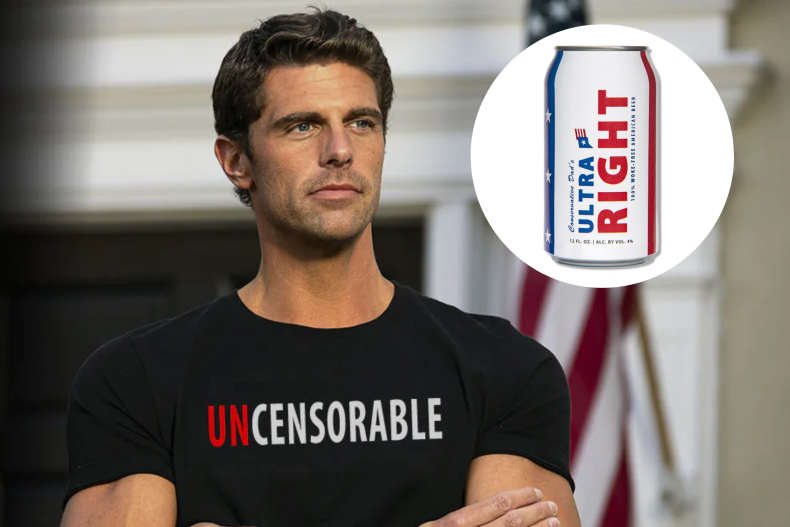 A handful of replies were positive, with people saying they were excited to buy the brew or asking questions about its calorie content. Online, however, the feedback was largely negative or mocking as the beer became a trending topic on Twitter.
For some, what was more attention-grabbing than the advertisement was the price of the brew itself: $20 for a pack of six beers. And that's before shipping—a necessity for customers due to the fact they could not yet legally sell the product in stores. The beer also has a lower alcohol content (4.0 percent) than a can of Bud Light
In one post, a potential customer told Weathers they decided against buying the beer, saying that while they wanted to support him, they could not afford the $35 total cost it would have amounted to with the shipping cost included.
Critics of the brand quickly piled on.
"I going to pay $35 for a 6 pack to own the libs!" one person tweeted. "Imagine being so triggered that you'd spend $35 on a 6 pack," another Twitter user wrote.
On its own, Weathers' beer (which some already believe could be vulnerable to a lawsuit due to its similarity with Anheuser-Busch's Michelob Ultra) is well out-of-line with similar ales and lagers on the market.
While a six-pack of Bud Light typically retails for $9 or less in most parts of America, some affiliated brews—Busch Light or Natural Light—can sell for even less. Regional light beers like Genesee also sell for lower prices. In 2011, the drugstore chain Walgreens introduced its own beer brand, Big Flats, for $2.99 per six-pack, with each beer clocking in at 4.5 percent alcohol content.
Even the more premium independent brewers are more competitive on price, with a per six-pack cost rarely exceeding $13 for flagship brews.
Weathers personally responded to concerns about the price in his own tweet, saying the high price primarily came from the fact that the company could not legally sell the product in stores yet.
"Once we sell a lot and can produce in mega batches it'll also [be] a big price reduction," he wrote.
Newsweek reached out to Weathers' Ultra-Right Beer and its affiliate company, Freedom Speaks Up, for comment.
Rather than a scrappy start-up trying to serve a disaffected demographic of the light beer market, however, some described the product in more critical terms: a grift, targeting gullible and fragile people.
"If you buy a 6 pack of canned *4%* ABV beer for $20 before shipping, I don't care what your politics are, you're a loser," one Twitter user wrote. "And let's be honest, it's not going to taste great."