Members of Britain's leading anti-monarchy group are seeking answers after a number of their organizers were arrested in London on the day of King Charles III's coronation.
Graham Smith, CEO of protest group Republic, known for wearing yellow T-shirts emblazoned with "Not my king" slogans at royal events, has told Newsweek's The Royal Report podcast that they will be taking complaints to parliament and to the Mayor of London over the Metropolitan Police's handling of the event.
Speaking to Newsweek chief royal correspondent, Jack Royston, Smith said he felt that protester arrests on the day of the coronation were "premeditated," considering he and other Republic members had been liaising with police to ensure their right to demonstrate in advance of the big day.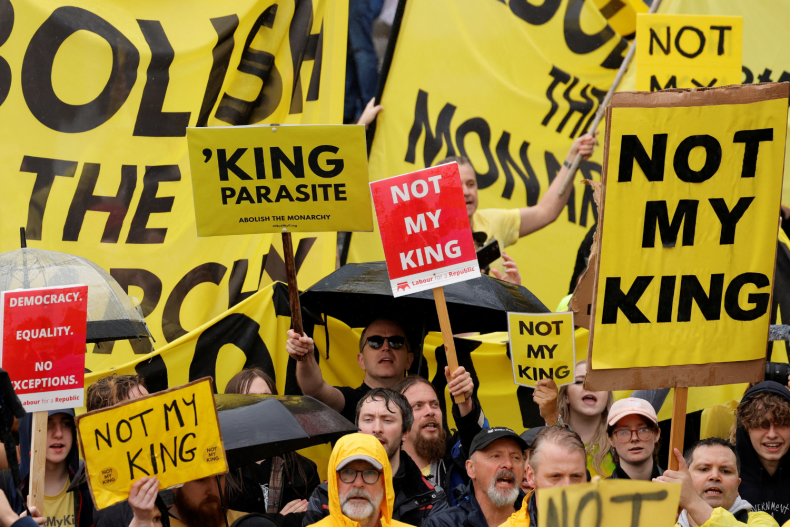 "It is an outrageous assault on people's liberties that you can just grab people off the street and put them in a cell for 16 hours and then just kind of wave it off and say, 'oh well, you know, sorry about that,'" he said, referring to his own experience in a cell on May 6.
In total, the police made 64 arrests on coronation day, with 52 of those being over concerns that people were planning to disrupt the event. Of these, so far just four charges have been brought.
Smith and his colleagues were arrested close to the designated protest rally point of Trafalgar Square. The group were collecting protest material such as placards and straps with which to attach them to poles. But police suspected they were "lock on" devices, used to tie protesters to public property.
"There will be further action," Smith said. "We're taking advice from lawyers and, you know, we'll almost certainly take action in terms of seeking answers as well as compensation. The answers in a way are more important because I think we need to know who made what decision."
"We're also going to be giving evidence to parliament," he continued. "And we'll be writing to Sadiq Khan, the mayor of London."
Following the coronation, the Metropolitan Police appeared to walk back on the tough line they took with protesters, voicing "regret" about Smith and his colleagues' arrests.
On May 8, a statement from the force read:
"The investigation team have now fully examined the items seized and reviewed the full circumstances of the arrest.
"Those arrested stated the items would be used to secure their placards, and the investigation has been unable to prove intent to use them to lock on and disrupt the event.
"This evening, all six have had their bail cancelled and no further action will be taken. We regret that those six people arrested were unable to join the wider group of protesters in Trafalgar Square and elsewhere on the procession route."
Despite Smith's experience, recent polling by YouGov suggests that Britons back the police for their overall operations on coronation day.
Fifty-six percent of survey respondents said they felt the police handled the coronation well. Forty-one percent replied that the force struck the right balance between lenient and harsh in the way they handled protesters.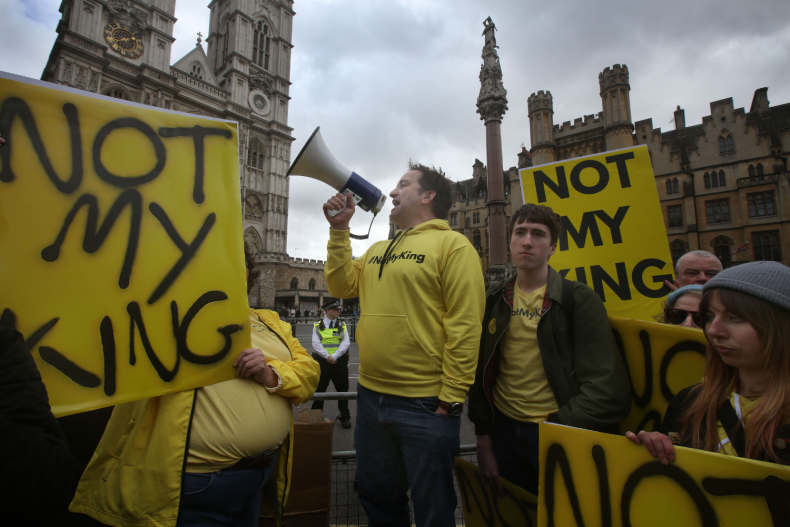 Though missing Smith and key organizers, Republic's coronation day demonstration continued from Trafalgar Square, with a large group of supporters turning out in their "Not my king" T-shirts with "Abolish the monarchy" banners capturing attention as King Charles and Queen Camilla's carriage procession passed by.
According to poll data, the monarchy as an institution is supported by the majority of the British public, though among younger generations that support is diminishing.
In a survey taken by YouGov in April 2023, 57 percent of respondents strongly supported Britain continuing to have a monarchy against 29 percent who felt strongly that it should not.
James Crawford-Smith is Newsweek's royal reporter, based in London. You can find him on Twitter at @jrcrawfordsmith and read his stories on Newsweek's The Royals Facebook page.
Do you have a question about King Charles III, William and Kate, Meghan and Harry, or their family that you would like our experienced royal correspondents to answer? Email royals@newsweek.com. We'd love to hear from you.