A large anti-abortion group and predominant GOP donor has condemned former President Donald Trump for his newly shared views on abortion in the wake of the summer's Dobbs reversal.
Susan B. Anthony (SBA) Pro-Life America, a network of over 900,000 Americans against abortion, chastised the current 2024 Republican front-runner after his campaign told The Washington Post that Trump "believes that the Supreme Court, led by the three justices which he supported, got it right when they ruled this is an issue that should be decided at the state level."
Trump's comments occurred simultaneously as some GOP-led states like Florida have taken more stringent steps in banning abortions after a certain number of weeks. Legal outcomes resulting from a Texas lawsuit filed in February to potentially ban the use of mifepristone, an abortion pill accessed nationwide, remain to be seen.
"President Trump's assertion that the Supreme Court returned the issue of abortion solely to the states is a completely inaccurate reading of the Dobbs decision and is a morally indefensible position for a self-proclaimed pro-life presidential candidate to hold," SBA Pro-Life America President Marjorie Dannenfelser said in a statement Thursday. "Life is a matter of human rights, not states' rights. Saying that the issue should only be decided at the states is an endorsement of abortion up until the moment of birth, even brutal late-term abortions in states like California, Illinois, New York and New Jersey.
"The only way to save these children is through federal protections, such as a 15-week federal minimum standard when the unborn child can feel excruciating pain."
Dannenfelser's organization joined representatives from other major anti-abortion groups, including March for Life, to support Republican Senator Lindsey Graham's legislation in September that would have banned abortions nationwide after 15 weeks. The bill gained no traction among Republicans after its unveiling.
SBA will oppose any presidential candidate "who refuses to embrace at a minimum a 15-week national standard to stop painful late-term abortions while allowing states to enact further protections," Dannenfelser added.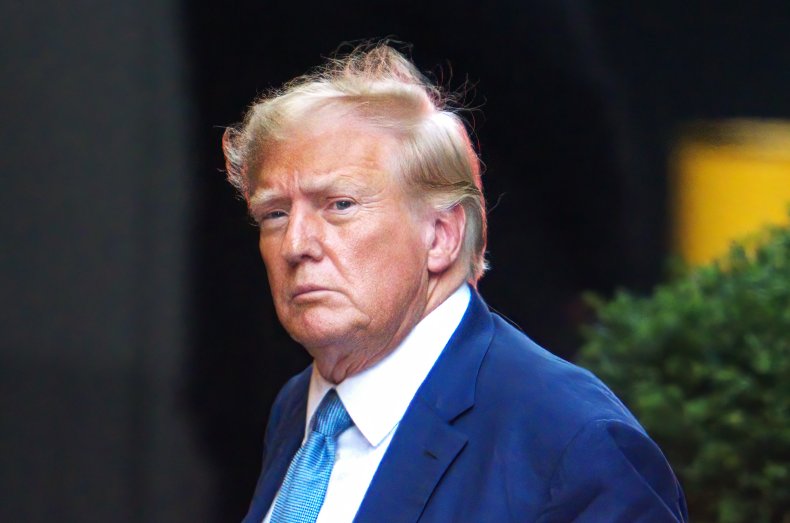 The organization reportedly spent $52 million on Trump's 2020 reelection efforts—the most in its history, according to CNBC. It also spent money via its PAC Women Speak Out in battleground states.
SBA spent $296,408 on federal candidates in 2021 and 2022, according to data from Open Secrets, and 98.3 percent of recipients were Republican legislators.
The number was even higher for 2019 and 2020.
Planned Parenthood reportedly spent a record-high $45 million that cycle in favor of abortion-rights candidates.
"Donald Trump championed a radical anti-abortion agenda as president, one that was soundly rejected by voters in the midterms and in races throughout 2023," Lauryn Fanguen, spokesperson for Planned Parenthood Votes, told Newsweek via email. "Every single announced GOP presidential candidate believes politicians should get to make decisions about our bodies. They can't hide from their records."
Newsweek has reached out to SBA via email for comment.
Florida Governor Ron DeSantis, often viewed as arguably Trump's most formidable 2024 opponent should he declare his candidacy, signed a bill last week that would ban most abortions after six weeks, or prohibits abortions once a heartbeat is detected—which can occur after the six-week mark of pregnancy.
The decision has been ridiculed by conservative pundits like Ann Coulter, who called it a "total disaster" and tweeted that "Republicans have lost with strict anti-abortion positions since Dobbs" in 11 different elections.
On Wednesday, she tweeted a "compromise," as she described: banning abortion only for registered Republicans.
A top GOP donor, Thomas Peterffy, who donated $7 million to Republican candidates during the 2022 cycle, said DeSantis' "stance on abortion and book banning" has given him pause regarding future support.
The Guttmacher Institute, a research and policy organization committed to advancing global sexual and reproductive health and rights, reports that 12 states have near-total abortion bans in effect: Alabama, Arkansas, Idaho, Kentucky, Louisiana, Mississippi, Missouri, Oklahoma, South Dakota, Tennessee, Texas and West Virginia.
Another 15 states restrict access to medication abortion, which includes North Dakota— where no abortion providers currently exist.
Newsweek has reached out to Trump's campaign via email for comment.