Anheuser-Busch responded publicly to a boycott of its Bud Light products on Friday, and the statement further infuriated conservatives boycotting the beer because it didn't include an apology.
Some conservatives have shunned Bud Light for nearly two weeks after influencer Dylan Mulvaney, a transgender woman, shared a video on her Instagram announcing that Bud Light had sent her a personalized beer can with Mulvaney's face on it. The can was sent to Mulvaney in celebration of her first anniversary since she transitioned.
Conservatives took Anheuser-Busch's support of Mulvaney personally and boycotted the product. Several celebrities, including musician Kid Rock, and supporters of Arizona gubernatorial candidate Kari Lake were among the conservatives who refused to drink Bud Light after Mulvaney's video. In one bar, the controversy was leading to verbal altercations between customers.
Nearly two weeks after Mulvaney's video went viral, Anheuser-Busch CEO Brendan Whitworth issued his first official statement on the topic, which Anheuser-Busch tweeted.
What the Statement Didn't Say
But the message didn't overtly support one side or the other. The message itself did not mention the term "LGBTQ+" nor did it mention the LGBTQ+ community, but did call out others.
"We have thousands of partners, millions of fans and a proud history supporting our communities, military, first responders, sports fans and hard-working Americans everywhere," Whitworth wrote in the statement.
Now, both sides are upset all over again.
Conservatives are expressing their disbelief on social media that Whitworth didn't apologize for the company's support of Mulvaney.
However, other people thought the statement was attempting to be politically correct and criticized the company for not taking a stronger stance by supporting its transgender customers.
Anheuser-Busch said, "We never intended to be part of a discussion that divides people. We are in the business of bringing people together over a beer."
But, if the rising Coors stocks are any indicator, Anheuser-Busch may not, in fact, be bringing people together.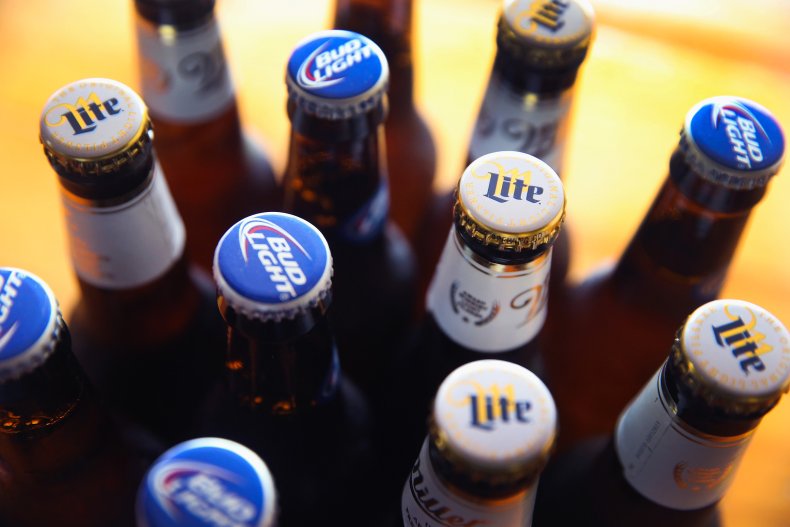 Conservative Backlash
Conservatives quickly took to Twitter to express their disbelief that there was no apology or admission of wrongdoing for Anheuser-Busch's support of Mulvaney.
"Whitworth failed to mention any regret for their marketing decisions and did not apologize after Bud's VP slandered their customer base. I have a hard time believing this 'apology' will have any positive impact for Bud Light," co-owner of conservative media outlet Trending Politics Collin Rugg tweeted.
In response to Rugg's tweet, other conservatives agreed and continued to bash the company.
"Go woke, go broke – will they ever learn?" one person tweeted.
"He says 'we have millions of fans.' I think he means they 'had' millions of fans. Past tense. I think they actually have a real problem on their hands," another user tweeted.
Progressive Backlash
Others speculated that Democrats also wouldn't be in favor of the message, considering it didn't affirm its transgender customers. Some Twitter users are wondering about the purpose of the message, as it didn't apologize but also didn't explicitly express support for its transgender customers, either.
"He needs to get off the fence and pick a side," one user tweeted.
"The statement won't satisfy their conservative customers because there is no apology or acknowledgment of wrong," Twitter user and self-proclaimed "Transphobe of the Year" Matt Walsh tweeted. "And it won't satisfy the Left because it doesn't affirm transgenderism and admits at least (without using the word) that the trans issue 'divides people.'"
"Not you causing utter chaos with this trash statement and pissing EVERYONE off," one user tweeted. "Anyway, trans people matter and are valid…and drink beer like anyone else…and deserve to be represented in media. There. That's what you should've said. You're welcome."
The Friday press release was Whitworth's first public statement about the topic, and Anheuser-Busch's first social media post on the topic as well. Anheuser-Busch had previously released a statement to several media outlets regarding the controversy:
"Anheuser-Busch works with hundreds of influencers across our brands as one of many ways to authentically connect with audiences across various demographics," the spokesperson said in a statement shared with several media outlets. "From time to time, we produce unique commemorative cans for fans and for brand influencers, like Dylan Mulvaney. This commemorative can was a gift to celebrate a personal milestone and is not for sale to the general public."
"I care deeply about this country, this company, our brands and our partners. I spend much of my time traveling across America, listening to and learning from our customers, distributors and others," Whitworth ended the statement. "Moving forward, I will continue to work tirelessly to bring great beers to consumers across our nation."
Newsweek reached out to Anheuser-Busch for comment by email.