Anderson Cooper was interrupted by one of his co-hosts after claiming he hadn't seen Prince George at King Charles III's coronation while the young royal was appearing on his screen.
Charles was crowned at Westminster Abbey in London on Saturday in front of world leaders, senior religious figures and other dignitaries. The longest heir apparent in British history became King in September 2022 following the death of Queen Elizabeth II at Balmoral Castle in Scotland.
Cooper was covering the event live for CNN from a temporary studio setup in front of Buckingham Palace along with Christiane Amanpour, CNN's chief international anchor, and the network's London correspondent Max Foster.
Whilst Prince George is visible on screen heading into Westminster Abbey, standing right behind Charles, Cooper comments: "We haven't seen George, but he may be somewhere else."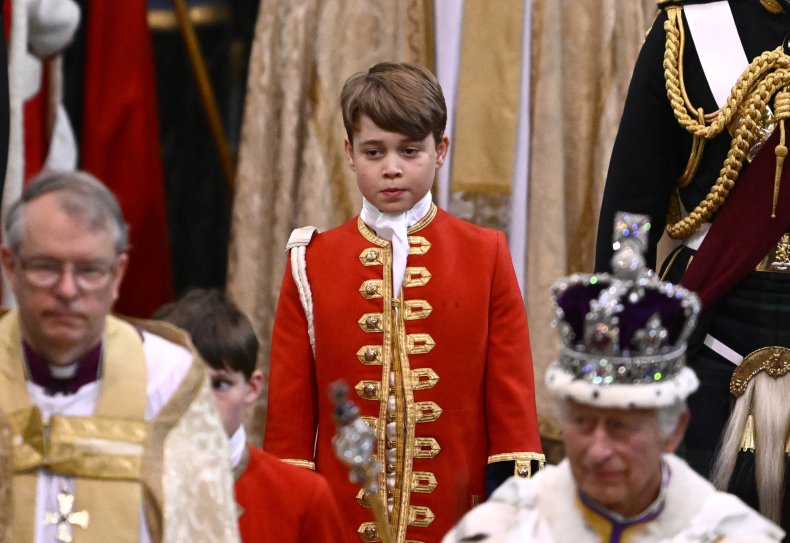 This prompted Foster to interrupt, pointing out "no we did see him, he's holding the robe behind the King."
Later Cooper got nine-year-old George mixed up with his five-year-old younger brother, Prince Louis.
The gaffes sparked a reaction on social media, with one Twitter user commenting: "Anderson Cooper not knowing which one is George and which one is Louis is why I am watching this spectacle. Thank you Anderson."
Another Twitter user said she decided to stick with CNN's coverage "so I could laugh at how bad Anderson Cooper's commentary is."
She added: "His English co-hosts almost ignoring him & trying to ensure he doesn't say much – Anderson saying Prince George wasn't there when he'd been pointed out a cpl [couple] of times by the others."
A third Twitter user, based in New Orleans, wrote: "One demerit for Anderson Cooper not recognizing Prince George."
The United States was represented at the coronation by First Lady Jill Biden, who attended along with her granddaughter Finnegan Biden.
Charles is king of 14 commonwealth realms, in addition to Britain, including Canada, Australia, Jamaica and Papua New Guinea. Military personnel from these countries joined the royal procession, with leaders including Canada's Justin Trudeau and Australia's Anthony Albanese present for the service.
After the service Charles was taken by golden carriage from Westminster Abbey to Buckingham Palace, accompanied by a large parade from the British Army, Royal Navy and Royal Air Force. Thousands of well-wishers lined the route, though the event was marred somewhat by heavy rain which resulted in a planned flypast being scaled back.
Prince Harry attended the coronation without his wife, Meghan Markle, or their children Prince Archie and Princess Lilibet. He was seated in Westminster Abbey between Princess Alexandra of Kent and Jack Brooksbank, husband of his cousin Princess Eugenie.
Archie is celebrating his fourth birthday on Saturday, and Harry is expected to fly back to California shortly after the coronation.
Newsweek has contacted CNN for comment via email.