A majority of Americans support a law signed by Florida Governor Ron DeSantis on May 8 that bans Chinese citizens from buying property or land in the state, exclusive polling conducted on behalf of Newsweek has found.
A survey of 1,500 U.S. adults by Redfield & Wilton Strategies found 63 percent supported the move, of which 35 percent were strongly in favor. Only 8 percent of American voters were against the law, the poll suggests.
The law is intended to counteract what is seen as Chinese government encroachment on American assets. While DeSantis argued Florida was "taking action" against what he described as the "greatest geopolitical threat" to the U.S., critics argue the legislation could contribute to discrimination against immigrants and could violate the Fair Housing Act of 1968.
Americans are becoming increasingly suspicious of China, amid a cooling of ties between the two nations. A poll by the Pew Research Center in April found that 83 percent of U.S. adults had a negative view of China, with the same number considering the nation's growing technological power a serious problem.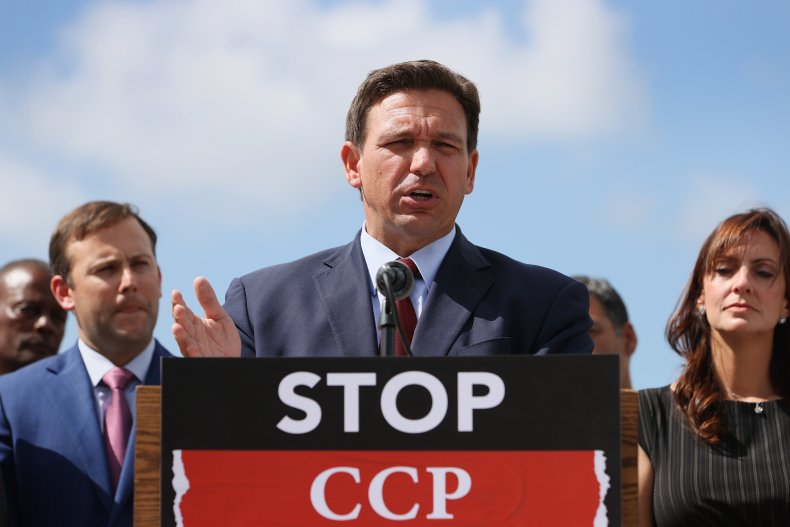 Tensions have risen over Taiwan and an ongoing trade war, as well as accusations of spying. China was found by U.S. defense officials to be responsible for a suspected spy balloon that flew over the U.S. in February—a claim its government denied—and U.S. lawmakers are now seeking to limit the reach of Chinese technology firms.
There has been growing concern in Congress about the increase in Chinese ownership of U.S. agricultural land because of a perceived threat to national security and food supply. In response, legislation has been introduced at both the national and state level that would restrict the purchase of farmland by countries deemed hostile to the United States.
Florida's SB 264 bars Chinese citizens from buying land in the state if they are not a U.S. citizen or a permanent resident. However, it does allow for Chinese nationals with a U.S. visa to purchase at most two acres of land, so long as the parcel is not within five miles of a military installation.
The law also prohibits citizens of Russia, North Korea, Iran, Cuba, Venezuela and Syria from buying land within 10 miles of a military base or piece of critical infrastructure, though only Chinese nationals face a state-wide ban. It is due to come into effect on July 1.
Newsweek's poll, conducted on May 17, showed Americans were divided on whether non-domiciled foreign citizens in principle should not be able to buy land in the U.S.
Some 49 percent said foreign nationals should not be able to buy U.S. land—54 percent among those who voted for Donald Trump in 2020 compared with 45 percent who voted for Joe Biden.
Yet, 35 percent said they should be able to purchase land in America, with 36 percent of Trump voters in favour and 40 percent of Biden voters.
While the breakdown among political leanings appears to show Republicans tend to be more in favor of banning foreign nationals from owning U.S. land, a large proportion of Democratic voters feel the same.
Some 73 percent of Trump voters supported the Florida ban on Chinese land ownership, compared to 60 percent among Biden voters—suggesting national security is a prominent, if divisive, concern across the political spectrum.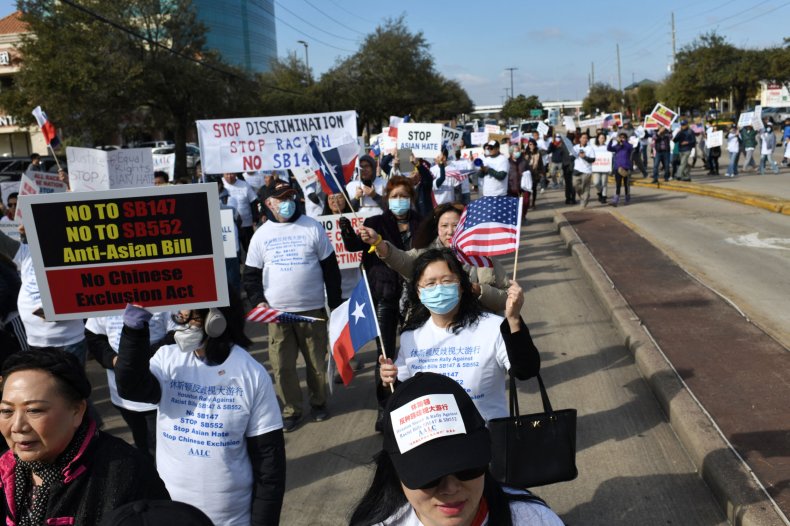 It comes as the Florida governor is expected to announce his candidacy as a Republican presidential candidate for the 2024 election next week, as first reported by the Wall Street Journal on Thursday.
DeSantis has suffered against Trump in recent polls of Republican voters, with one showing the former president with an over 36 percent lead. While DeSantis faces an uphill primary battle, Newsweek's polling signifies he may be able to win over moderate voters with some of his policies at a national level.
Newsweek approached DeSantis' office via email for comment on Friday.
When passed by the Florida state House of Representatives, SB 264 faced protests from Chinese Americans, who described it as "anti-Asian."
DeSantis said in a statement upon signing it into law that he was "proud" to do so, adding that it would "stop the purchase of our farmland and land near our military bases and critical infrastructure by Chinese agents."
According to the U.S. Department of Agriculture's 2021 report on foreign ownership of American land, Chinese investors held 383,935 acres—a total of 366 parcels of land owned by 146 separate investors, with a total value of $2.1 billion.
In January, lawmakers in North Dakota raised concerns about a proposal to build a wet corn milling plant 12 miles from the Grand Forks Air Base, after the Air Force warned that the installation would pose "a significant threat to national security."