Following the arrest of two men charged with operating a secret Chinese police station in New York, a senior Biden administration official on Tuesday condemned Beijing, warning that the U.S. would "use all available tools" to protect citizens from harassment by foreign governments.
"The U.S. Government has been clear that we will use all available tools to protect American citizens and other U.S. persons from transnational repression and other forms of foreign malign influence," the senior administration official told Newsweek.
"We will not tolerate the PRC Government—or any foreign government—harassing or threatening U.S. persons," the official added, referring to the People's Republic of China.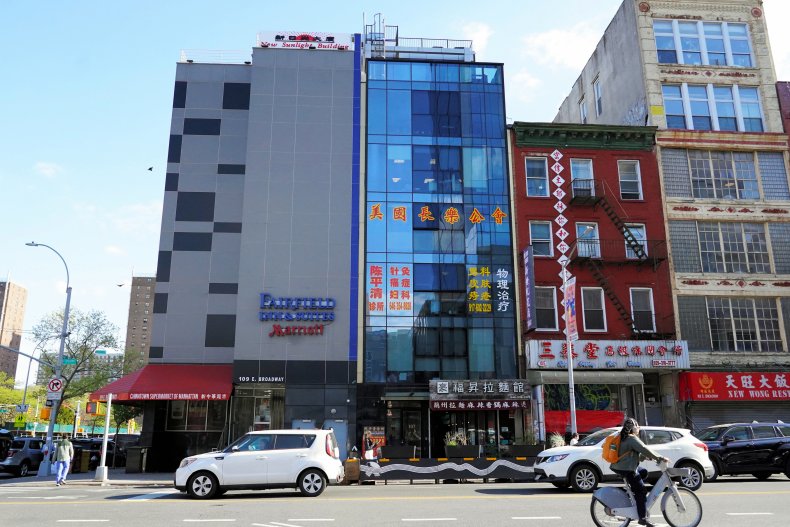 The warning comes one day after federal prosecutors in Brooklyn unsealed criminal complaints against two men who were charged with helping the Chinese government set up a clandestine police outpost in Manhattan to intimidate dissidents in the U.S. and suppress criticism of Beijing.
The two men, Lu Jianwang and Chen Jinping, acted "under the direction and control" of an official from the Chinese Ministry of Public Security, according to the Justice Department.
The F.B.I. arrested Lu and Chen Monday and charged them with conspiring to act as agents of China and obstructing justice. The two men made an initial court appearance Monday but have not yet entered pleas responding to the charges, a Justice Department official told Newsweek.
The F.B.I. and U.S. attorney's office launched an investigation into the secret police outpost last year. According to court papers, it reported to the Fuzhou branch of China's Ministry of Public Security.
"This prosecution reveals the Chinese government's flagrant violation of our nation's sovereignty," Breon Peace, the U.S. attorney for the Eastern District of New York, said in a statement Monday. "Such a police station has no place here in New York City—or any American community."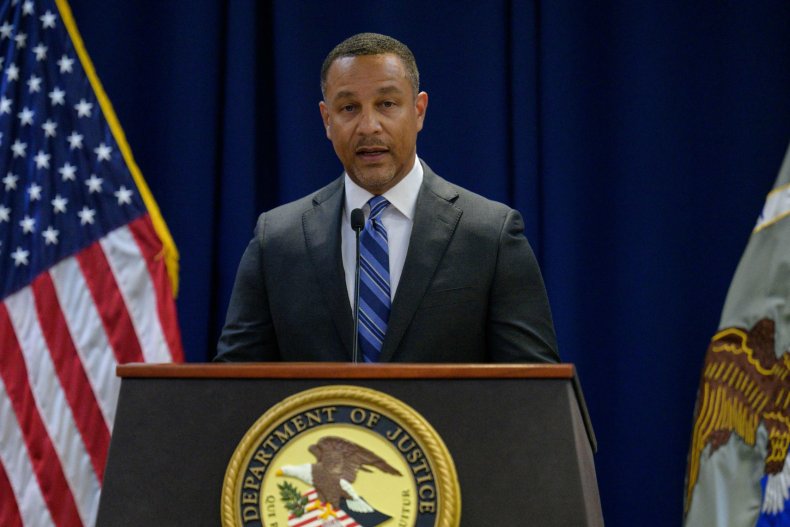 According to the Spain-based NGO Safeguard Defenders, China had established 54 "overseas police service centers" across five continents, 25 cities and 21 countries as of June 21, Newsweek reported last October. The Justice Department said these are the first known criminal charges against a secret Chinese police station located outside of China.
China dismissed the allegations Tuesday.
"China firmly opposes the U.S. side's slandering, smearing, engaging in political manipulation, and maliciously concocting the so-called transnational repression narrative," China's Foreign Ministry spokesperson Wang Wenbin told Agence France-Presse.
Federal prosecutors Monday also unsealed a criminal complaint charging 34 officials from China's Ministry of Public Security with harassing Chinese dissidents living abroad on social media. In a separate amended complaint, prosecutors charged 10 others with censoring speech in the U.S. that criticized Chinese government policy.
The charges are the latest in a string of recent incidents that have increased tensions between China and the U.S.
The countries have been at odds over trade policy and the war in Ukraine, and were also embroiled in a diplomatic dispute earlier this year after the Biden administration shot down Chinese spy balloons found floating over the U.S.