Manhattan District Attorney Alvin Bragg sent an email to his staff stating they will not be intimidated after Donald Trump called for protests to break out if the former president is arrested, according to reports.
In the internal email, seen by several news organizations, Bragg told employees that steps are being taken to protect them should any violence erupt amid claims from Trump that he will be indicted on Tuesday as part of the probe into hush money allegedly paid to adult film star Stormy Daniels in 2016.
There have been fears that Trump's Truth Social posts on Saturday calling for his supporters to protest his apparent upcoming arrest amounted to incitement, with comparisons made between his social media comments and the speech he gave on January 6 prior to the Capitol riot.
While there has been rising speculation that Bragg's office could soon make a decision on whether to indict Trump as the grand jury proceeding appear to be nearing an end, there have been no other official indications apart from Trump's posts that he will be arrested Tuesday specifically.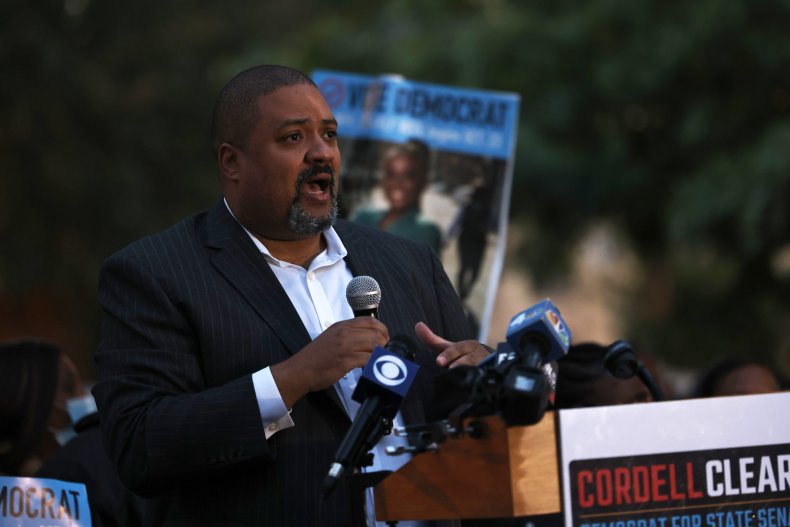 "Our law enforcement partners will ensure that any specific or credible threats against the office will be fully investigated and that the proper safeguards are in place so all 1,600 of us have a secure work environment," Bragg wrote in his email.
"In the meantime, as with all of our investigations, we will continue to apply the law evenly and fairly and speak openly only when appropriate," Bragg added. "We do not tolerate attempts to intimidate our office or threaten the rule of law in New York."
While Bragg didn't identify Trump by name, the D.A. did make reference to the "public comments surrounding an ongoing investigation by this office."
Trump twice called for protests to break out should he be arrested on Tuesday as part of the hush money investigation.
Prosecutors are looking into whether money Trump allegedly arranged for his attorney Michael Cohen to pay Daniels to keep an affair she claimed she had with the former president a secret ahead of the 2016 Election amounted to a campaign violation. Investigators are also examining if any records were falsified when Cohen was reimbursed for the money, which was listed in company records as legal fees.
"IT'S TIME!!! WE ARE A NATION IN STEEP DECLINE, BEING LED INTO WORLD WAR III BY A CROOKED POLITICIAN WHO DOESN'T EVEN KNOW HE'S ALIVE, BUT WHO IS SURROUNDED BY EVIL & SINISTER PEOPLE WHO, BASED ON THEIR ACTIONS ON DEFUNDING THE POLICE, DESTROYING OUR MILITARY, OPEN BORDERS, NO VOTER I.D., INFLATION, RAISING TAXES, & MUCH MORE, CAN ONLY HATE OUR NOW FAILING USA," wrote Trump, who denies having an affair with Daniels.
"WE JUST CAN'T ALLOW THIS ANYMORE," he continued. "THEY'RE KILLING OUR NATION AS WE SIT BACK & WATCH. WE MUST SAVE AMERICA!PROTEST, PROTEST, PROTEST!!!"
Former House Speaker Nancy Pelosi described Trump's comments as "reckless" and said he "cannot hide from his violations of the law, disrespect for our elections and incitements to violence."
A spokesperson for Trump said there has been no official notification other than "illegal leaks" from the Justice Department and the DA's office that prosecutors are preparing to "take his Witch-Hunt to the next level" with an arrest on Tuesday.
"President Trump is rightfully highlighting his innocence and the weaponization of our injustice system," the spokesperson told Newsweek.
Newsweek has contacted Alvin Bragg's office for comment via email.