A dog in the U.K. who developed an alcohol addiction after getting drinks from his former owner is now sober, and "on his way to a full recovery," thanks to the intervention of an animal welfare charity.
Coco, a two-year-old Labrador cross, and another dog were handed to the Woodside Animal Rescue Trust in Plymouth, Devon, after the death of their owner.
According to a post on the Trust's Facebook page, both dogs began suffering fits, and sadly the second dog "passed away despite our best efforts."
The post continued: "Coco continued to be seriously unwell and required round the clock care. It became clear that he was suffering from symptoms that all pointed to alcohol withdrawal. He spent four weeks sedated to help with his withdrawal symptoms and to reduce the risk of further fits."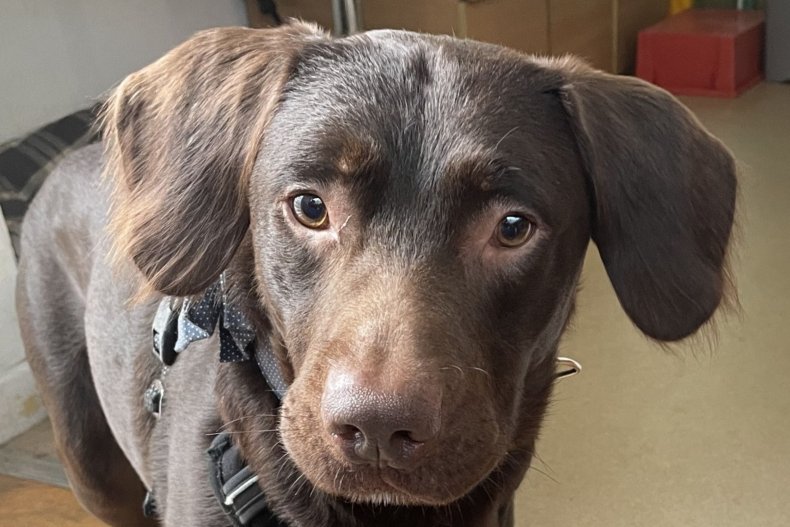 However, the situation has since vastly improved, with Coco "off all medication and now starting to behave like a normal dog," though he remains "very anxious at times."
To help with his recovery Coco was kept away from the main kennels, and instead treated "in a more homely environment" at the trust's Dunroamin Unit.
Speaking to Newsweek on Saturday, Helen Lecointe, the sanctuary manager, said Coco is continuing to make good progress.
She said: "Coco is doing very well indeed and well on his way to a full recovery. He spends a lot of his time helping the girls in our sanctuary reception, in between playing with his toy ball of course! A long way from the many days and long nights we went through with him so we are delighted."
Cora, who works at the Woodside Animal Rescue Trust, told Newsweek Coco has received "the all clear" from his vets, and is now "up for homing." She said the trust is hoping to find a new home for Coco in the Plymouth area, so he can carry on being treated by the same vet.
The worker added it is "very unusual" for the trust to receive dogs with alcohol issues, and urged dog owners to keep alcoholic drinks away from their pets. Cora emphasized that Coco had become "dependent" on alcohol, rather than just getting alcohol poisoning after drinking in a one-off incident.
On the social media site TikTok, Dr. Lindsay Butzer, a small animal veterinarian, racked up 780,000 views with a post about Syrus, a three-month-old giant wolf-puppy hybrid.
Another TikTok clip showing Sadie, a puppy border collie and springer spaniel crossbreed, eating what appears to be a boiled potato for the first time also went viral, racking up more than 1.8 million views. The video was uploaded with the caption "Sadie loves it."
Kansas resident Casey Newlin posted a video of Scout, her 9-month-old golden retriever, walking around with a dead three-foot-long common garter snake in his mouth.